Any of you who are on my card list won't be surprised, but here is our card!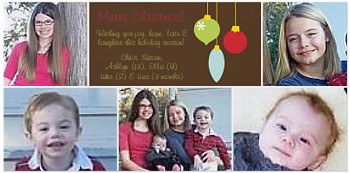 Mod Merry Ornaments Christmas

I made at least 10 different cards before settling on this one.
Then I debated about font color for a sweet forever. Is it my fault Shutterfly offers 14 (no exageration) different shades of green?
My husband called me obsessed (the brat), then took one look and said, "Is that green? I thought it was yellow."
He also thinks the periwinkle ornament is white. He is officially out of the Christmas card decision making discussion group.